http://www.bloomberg.com/news/articles/2016-04-05/men-seeking-women-for-boards-looking-in-all-the-wrong-places
Source: Getty Images
Men Seeking Women for Boards Looking in All the Wrong Places
April 5, 2016 — 5:00 AM EDT
Surveys find male directors see a lack of qualified women

`There's been too much reliance on an old boy network'
The men who dominate corporate boards in the U.S. still tend to pick men when seats open up. It may be that way because they're old — and don't know where to look.
Many of the baby-boomer guys who hold the majority of director positions are convinced it's difficult if not impossible to find qualified candidates of the other gender, according to two new studies, as thousands of eligible women go untapped. That's because most conversations about filling seats still take place in "male spaces" like golf-club locker rooms, said Barry Ostrowsky, chief executive officer of Barnabas Health Inc.
Even those eager to right the imbalance circulate in such narrow business circles that they may not know how to search for non-male nominees — and it's just easier to take the recommendations of other aging men they trust, he said. "There has been too much reliance on an old-boy network."
The notion that there aren't enough able women is nonsense, said Ric Marshall, executive director of research at MSCI Inc., which tracks board diversity. A statistic from researcher Equilar Inc. is telling: Four in five of the top female executives at public companies aren't on any boards.
Right now, 80 percent of Standard & Poor's 500 Index board members are men, according to executive recruiter Spencer Stuart Inc. The average age is 63.1 — more than two years older than a decade ago. Baby boomers simply haven't encountered as many female executives as younger groups, said Bill Ide, a corporate governance attorney in his 70s and a former director at Albemarle Corp. and Popeye's Louisiana Kitchen Inc.
"If we use our network — and our network, because of our generation, doesn't include many women — we're just not going to make the progress," Ide said.
Results of the studies by advocacy groups underscore the issue. WomanCorporateDirectors asked more than 4,000 board members why the panels are so male dominated, and 30 percent of men cited a "lack of qualified female candidates," something only 7 percent of female respondents concurred with. TheBoardList polled tech company founders and CEOs, and 80 percent said finding suitable women was difficult. (And 38 percent said gender diversity was only slightly or not important to their companies.)
To achieve equality just among new directors would require about 345 more seats going to women annually, or double the current number, Marshall said. The U.S. may be 40 years from parity on boards even if the pace of replacement doubles, according to a U.S. Government Accountability Office report issued in January.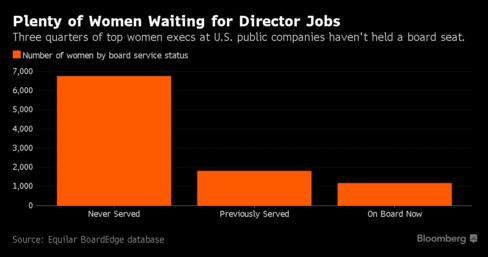 "There's an abject failure to address a known concern," Marshall said. "There's a power class that's holding on."
The pressure is growing, said Linda Chen, Equilar's executive vice president of governance strategy. Equilar is streamlining its database of women executives to make it easier not only to find them but to search for shared connections so directors can look for people they know to vouch for nominees.
"We are asking people to network outside of their own cozy networks," she said. "It's not a supply issue."
Once there's a critical mass change should be swifter, said Lynne Biggar, chief marketing and communications officer at Visa Inc. She joined the Voya Financial Inc. board in October 2014 and then, in part because of a connection she made with another woman on the panel, became a Marketo Inc. director.
"There will be a domino effect," she said, crediting the male CEOs of Visa and Voya for actively seeking women. "It will take some enlightened leadership."
At Barnabas Health, two of the 20 directors are women. Ostrowsky wants that to grow to five, and he said one way to get there is to require at least one woman be considered for each open slot. He said he's asking others in the healthcare industry to follow suit. "Lip service is cheap. There has to be a commitment."
Before it's here, it's on the Bloomberg Terminal.LEARN MORE